Welcome to afirstlook.com, the resource website for
A First Look at Communication Theory, the leading college textbook
in the field of communication theory, published by McGraw-Hill.
The text is now in its 9th edition (April 2014)
See the 9th Edition Table of Contents
Find out about the major changes to the text since the 8th edition
Find out about changes to the website with the 9th edition

The 7th and 8th Editions are still supported on this site. Use the edition selector above.
Resources for Instructors In addition to a wealth of information available to all users, there are additional resources tailored for instructors currently using or considering use of A First Look. Read more OR Login Now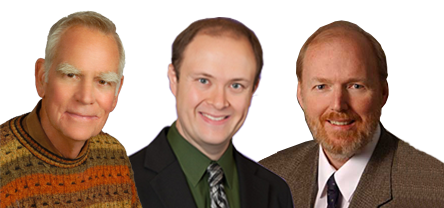 For the 9th edition,
Em Griffin
(Wheaton College, emeritus) is joined by new co-authors
Andrew Ledbetter
(TCU), and
Glenn Sparks
(Purdue).
Andrew and Glenn were both introduced to communication theory as undergraduate students of Em. Later, as they each became established in their own academic careers, they began to collaborate with Em. By the time the 8th edition of
A First Look
came out, they were listed as Special Consultants. Now, with the 9th edition, they are co-authors.
To find out more about them (and Instructors Manual author Emily Langan), go to
Meet the Authors
.
Using the Site
This website provides resources for students and faculty using the textbook A First Look at Communication Theory.

The most complete and up-to-date resources will be found for the 9th edition. If you are using the 7th or 8th edition, use the Edition Selector in the site header. Be aware that significant changes have been made for the 9th edition, particularly the Self-Helf Quizzes (for students) and Sample Short-Answer Quizzes (for instructors).

The heart of the site is the Theory Resources section, which contains a number of features to help explain the main theories covered in the selected edition. Some come from the text or Instructors Manual, while others are available only on the website or contain additional information, notably:
Conversation Videos—interviews with the authors of 13 theories covered in the 9th edition, plus four archived theories from previous editions
Archive—pdf versions of chapters for theories no longer given full-chapter coverage
Application Logs, Suggested Movie Clips, Links, Futher Resources—expanded versions of material available in the Instructors Manual
Self-Help Quizzes—for student preparation; completely rewritten for the 9th edition by Andrew Ledbetter
See more
Viewing Hints
. Additional resources are available for Instructors. See the
Instructor Information
page for details.